November 24, 2020
Happy Thanksgiving!
THE WEEK ON WALL STREET
Stock prices dropped last week as hopes for a fiscal stimulus bill faded and investors focused on rising COVID-19 infections, here and abroad.
The Dow Jones Industrial Average slid 6.47%, while the Standard & Poor's 500 tumbled 5.64%. The Nasdaq Composite index lost 5.51% for the week. The MSCI EAFE index, which tracks developed overseas stock markets, slumped 5.02%. 1,2,3
A Difficult Week for Stocks
Stocks opened the week lower as lawmakers failed to pass a fiscal stimulus bill and a pick up in the number of new COVID-19 cases in the U.S. and Europe. Hardest hit were companies most exposed to pandemic-related economic impacts, including energy, travel and leisure, and industrials.
Losses accelerated mid-week on reports of rising coronavirus-related hospitalizations, along with news that Germany and France were reinstating partial shutdown restrictions. 4
Stocks attempted to recover on Thursday, but took another leg lower on Friday as earnings reports from the mega-cap technology companies failed to impress investors.
Positive Economic News
There were several strong economic reports during the week, but investors paid little attention. Among the highlights were durable goods orders, which rose for the fifth consecutive month, a sharp drop in initial jobless claims that were the lowest since March 14th, and a 33.1% annualized jump in economic growth during the third quarter. 5,6,7
Investors also ignored a strong start to earnings season, which has seen 85% of reporting companies in the S&P 500 index beating earnings estimates by an average margin of 19%. 8

T I P O F T H E W E E K



Many Americans don't have wills. If you haven't created a will, do so.

THE WEEK AHEAD: KEY ECONOMIC DATA
Monday: ISM (Institute for Supply Management) Manufacturing Index.
Wednesday: ADP (Automated Data Processing) Employment Report. ISM (Institute for Supply Management) Services Index.
Thursday: Jobless Claims. FOMC (Federal Open Market Committee) Meeting Announcement.
Friday: Employment Situation.
Source: Econoday, October 30, 2020
The Econoday economic calendar lists upcoming U.S. economic data releases (including key economic indicators), Federal Reserve policy meetings, and speaking engagements of Federal Reserve officials. The content is developed from sources believed to be providing accurate information. The forecasts or forward-looking statements are based on assumptions and may not materialize. The forecasts also are subject to revision.
THE WEEK AHEAD: COMPANIES REPORTING EARNINGS
Monday: Paypal Holdings (PYPL), The Clorox Company (CLX), Mondelez International (MDLZ), Eversource Energy (ES).
Tuesday: Humana, Inc. (HUM), Prudential Financial (PRU), Emerson Electric (EMR).
Wednesday: Qualcomm (QCOM) .
Thursday: Alibaba Group (BABA), Square, Inc. (SQ), Bristol Myers Squibb (BMY), General Motors (GM), Duke Energy (DUK), Cigna Corp. (CI), T-Mobile:US (TMUS), Booking Holdings (BKNG), MetLife (MET).
Friday: CVS Health Corp. (CVS), Marriott International (MAR).
Source: Zacks, October 30, 2020
Companies mentioned are for informational purposes only. It should not be considered a solicitation for the purchase or sale of the securities. Investing involves risks, and investment decisions should be based on your own goals, time horizon, and tolerance for risk. The return and principal value of investments will fluctuate as market conditions change. When sold, investments may be worth more or less than their original cost. Companies may reschedule when they report earnings without notice.

Q U O T E O F T H E W E E K

"No day in which you learn something is a complete loss."
DAVID EDDINGS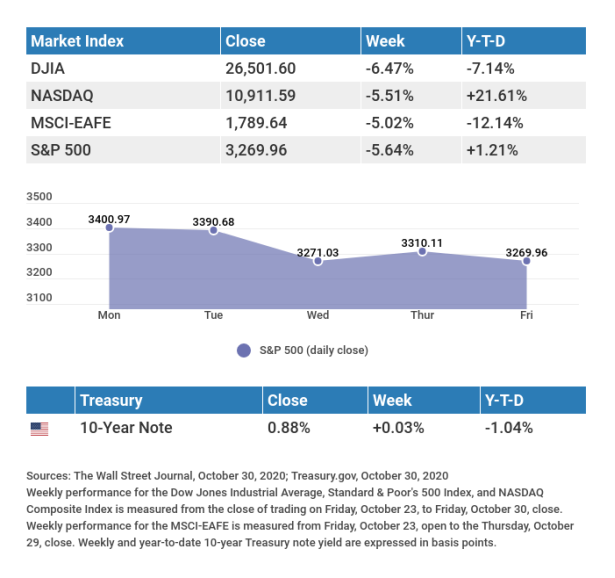 Use our 3 Step form to instantly see live rates along with closing costs.
"Michael Visser took great care of us on our mortgage. On top of that, he gave us other business advice that was extremely helpful. He knows much more than just the mortgage business. And that is what sets him apart from the competition. Fantastic rate to boot!"

"Mike Visser with Axent Funding has done both my mortgage and my refinance on my house. He was referred to me by my real estate agent. My real estate agent sends most of her clients to Mike for mortgage processing. Both of the loans he has arranged for me have been very smooth. He always makes sure that I am aware of what is going on in the loan process. He made sure I stayed alert to action items I needed to complete to keep the loan process progressing. This last Refinance I thought it would take about a month but it only took 18 days from application to closing including weekends. I have gotten emails from Mike at 11:30 at night so I know he works long hours and weekends to keep the loan process short. I had shopped my refinance at other places and they charged a lot more in fees."

"We just closed on our home and I can say that Axent Funding was great to work with every step of the way. We had peace of mind and confidence throughout the entire process because of Michael's experience. Our confidence was validated when we closed on schedule without any surprises, with a great rate! Thanks Michael!"
Google Reviews