November 12, 2019
THE WEEK ON WALL STREET
Domestic and international stocks rose last week. Risk appetite outweighed concerns about the state of U.S.-China trade discussions.
The Dow Jones Industrial Average, Nasdaq Composite, S&P 500, and MSCI EAFE all ended the week with gains. Blue chips led the way, as the Dow added 1.22%. The Nasdaq improved 1.06%; the S&P, 0.85%. The EAFE, tracking developed stock markets away from North America, was up 0.76%. The Dow recorded its third straight weekly gain; the S&P, its fifth. 1,2,3
Will Tariffs Phase Out or Remain?
Thursday, a spokesman for China's commerce ministry said that U.S. and Chinese trade representatives had "agreed to remove" existing tariffs in "phases," while working toward a new trade deal.
On Friday morning, President Trump told the media that he had not agreed to any such condition. President Trump and Chinese President Xi Jinping are still expected to sign off on "phase one" of a new bilateral trade agreement. 4
Service Sector Activity Picks Up
A closely watched index of U.S. business activity posted an October gain. The Institute for Supply Management's Purchasing Managers Index for non-manufacturing firms rose nearly two points last month to 54.7. ISM also noted an increase for new orders in October.
As most U.S. companies provide services rather than manufacture products, this news is encouraging and suggests more momentum in that sector. 5
FINAL THOUGHT
Monday is Veterans Day; the stock market will be open, but the bond market, plus all federal government offices, will be closed.

T I P O F T H E W E E K



An emergency fund should be thought of as just that: a cash reserve for handling sudden sizable expenses . While it may be tempting to dip into it for other circumstances, its definition and purpose must be respected.

THE WEEK AHEAD: KEY ECONOMIC DATA
Wednesday: Federal Reserve Chairman Jerome Powell begins two days of testimony on the country's economic outlook in Congress, and the Bureau of Labor Statistics presents new inflation data in the October Consumer Price Index.
Friday: October retail sales figures arrive from the Census Bureau.
Source: Econoday, November 8, 2019
The Econoday economic calendar lists upcoming U.S. economic data releases (including key economic indicators), Federal Reserve policy meetings, and speaking engagements of Federal Reserve officials. The content is developed from sources believed to be providing accurate information. The forecasts or forward-looking statements are based on assumptions and may not materialize. The forecasts also are subject to revision.
THE WEEK AHEAD: COMPANIES REPORTING EARNINGS
Tuesday: Praxair (LIN), Tyson Foods (TSN)
Wednesday: Cisco (CSCO)
Thursday: Applied Materials (AMAT), Nvidia (NVDA), Walmart (WMT)
Source: Zacks.com, November 8, 2019
Companies mentioned are for informational purposes only. It should not be considered a solicitation for the purchase or sale of the securities. Any investment should be consistent with your objectives, time frame, and risk tolerance. The return and principal value of investments will fluctuate as market conditions change. When sold, investments may be worth more or less than their original cost. Companies may reschedule when they report earnings without notice.

Q U O T E O F T H E W E E K

"It is our responsibilities , not ourselves, that we should take seriously ."
PETER USTINOV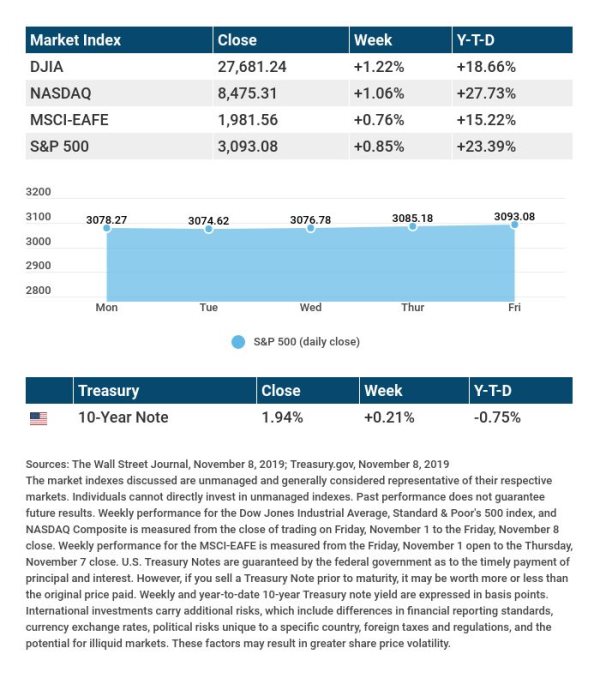 Use our 3 Step form to instantly see live rates along with closing costs.
"Michael Visser took great care of us on our mortgage. On top of that, he gave us other business advice that was extremely helpful. He knows much more than just the mortgage business. And that is what sets him apart from the competition. Fantastic rate to boot!"

"Mike Visser with Axent Funding has done both my mortgage and my refinance on my house. He was referred to me by my real estate agent. My real estate agent sends most of her clients to Mike for mortgage processing. Both of the loans he has arranged for me have been very smooth. He always makes sure that I am aware of what is going on in the loan process. He made sure I stayed alert to action items I needed to complete to keep the loan process progressing. This last Refinance I thought it would take about a month but it only took 18 days from application to closing including weekends. I have gotten emails from Mike at 11:30 at night so I know he works long hours and weekends to keep the loan process short. I had shopped my refinance at other places and they charged a lot more in fees."

"We just closed on our home and I can say that Axent Funding was great to work with every step of the way. We had peace of mind and confidence throughout the entire process because of Michael's experience. Our confidence was validated when we closed on schedule without any surprises, with a great rate! Thanks Michael!"
Google Reviews